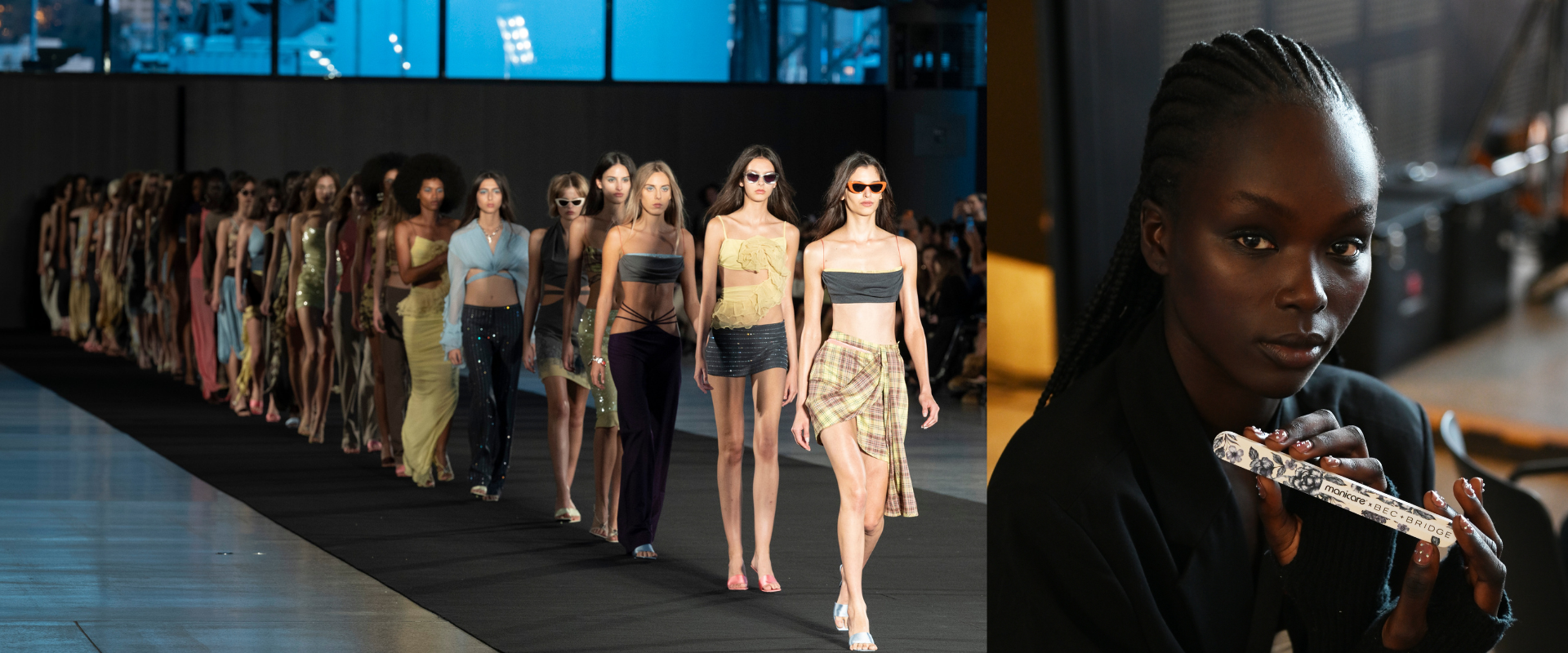 Afterpay Australian Fashion Week (AAFW) 2023 showcased the return of the successful collaboration between Manicare and BEC + BRIDGE. Following the rousing success of the 2022 partnership, both brands were eager to continue their work together, bringing the world of fashion and beauty together once again.
In Sydney, on 16th May AAFW 2023 was the highly anticipated debut of the BEC + BRIDGE Resort 23/24 collection, titled 'Hot Thing.' This captivating showcase brought together the allure of '90s minimalism and the effortless essence of grunge, reimagining the iconic fashion era through a modern lens.
Designers Bec Cooper and Bridget Yorston, deeply influenced by their fashion-centric teenage years, drew inspiration from the late '80s and early '90s, setting the stage for an unforgettable runway experience.
The beauty looks for the show was meticulously crafted by industry leaders Meccabeauty, Redken, Manicare in collaboration with Nail Technician Cindy Vellis and her team.
Manicare, Australia's #1 Beauty Tool and Accessories brand, was the official nail sponsor for the show.  The models flaunted a high-gloss, high-shine, clean manicure and pedicure with a touch of glam! To achieve this look, Manicare worked with Nail Technician Cindy Vellis to curate the nail brief​1​.
The nails were prepped by removing any existing nail polish with Manicare Nail Polish Remover. Next, the Manicare x Bec+Bridge Fashion Nail Shapers, precisely shaped and tidied the nails, while the Manicare 4-way buffer smoothed the nail beds. The base coat, Start to Finish by Manicare, provided a solid foundation for the carefully selected nude polish tailored to complement each model's skin tone. Finally, using nail glue from Glam Nail Glue, the team artistically applied the scattered rhinestones. Although a slow and delicate process, the result was undeniably worth it, producing breathtaking nails that perfectly complemented the collection.
Cindy described the nail vibe of the BEC + BRIDGE show as "clean, shiny, and vibing" This carefully curated look not only embraced the models' natural beauty but also added a touch of glamour and allure to complete the overall aesthetic of the collection.
The BEC + BRIDGE Resort 23/24 collection will be available from October. Stay tuned to witness the fusion of '90s minimalism and grunge reimagined for the modern fashion landscape.