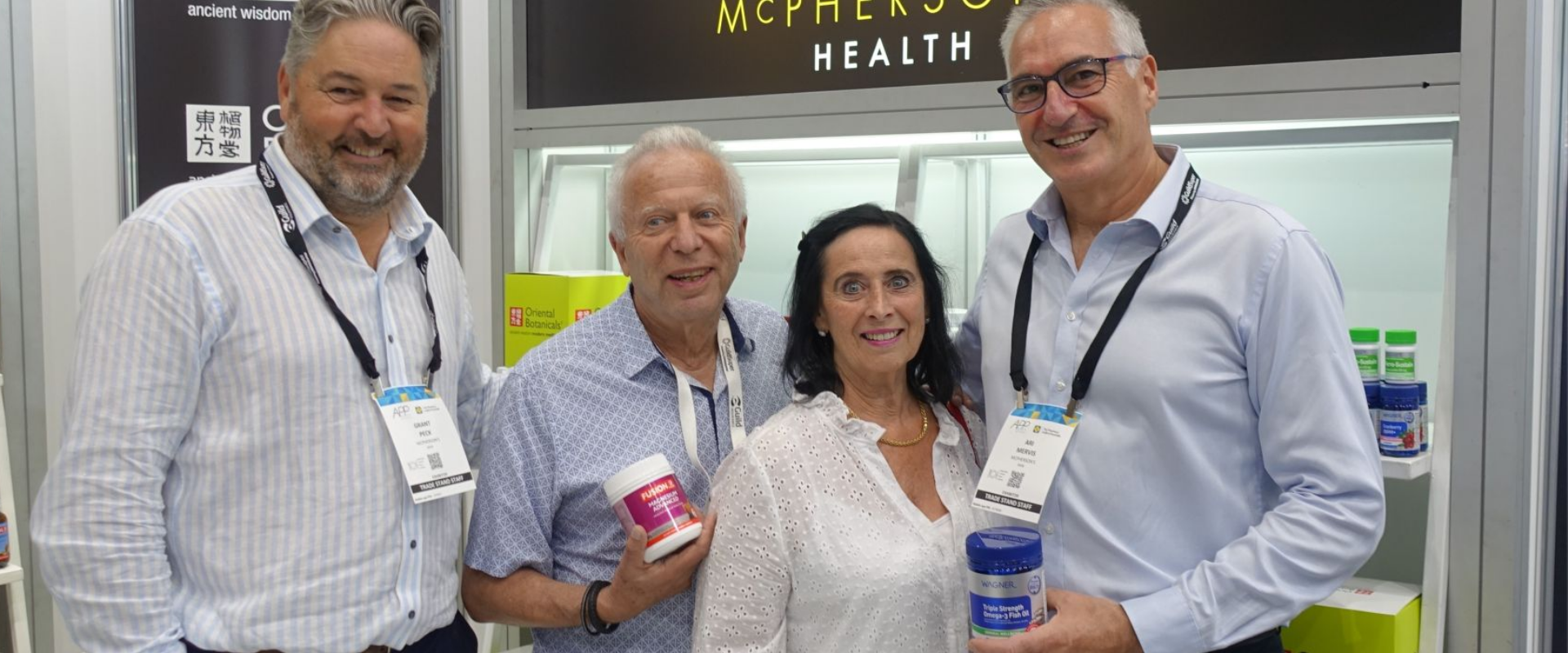 Pictured Left to Right: Grant Peck, McPherson's CEO and Managing Director, Jack Gance, Chemist Warehouse Chairman and CO-Founder, Evelynne Gance, Ari Mervis, McPherson's Chair.
McPherson's is pleased to share the strengthening of our existing productive relationship with Chemist Warehouse. We have established a unique strategic alliance, structured to deliver material commercial and operational benefits for both parties.
McPherson's has been appointed as the exclusive distributor of a quality portfolio of Chemist Warehouse-owned or controlled health and beauty brands outside of Chemist Warehouse in Australia and New Zealand. The initial range, which includes Wagner Vitamins, Wagner Body Science, Bondi Protein, Foster Grant, INC and Microgenics will now be available to all pharmacies within McPherson/s distribution partner network.
Chemist Warehouse will incrementally increase the portfolio of McPherson's brands which Chemist Warehouse currently ranges in Australia and New Zealand, to now include the Moosehead, Maseur, Fusion Health, Stratton, SugarBaby and Happy Flora brands. Chemist Warehouse will also recognise McPherson's as a preferred supplier.
Chemist Warehouse will become a substantial shareholder of McPherson's on 1 July 2022 as part of the Strategic Alliance, with a holding of 9.9% of McPherson's shares on a fully diluted basis.
Chairman Ari Mervis said: "McPherson's is delighted to welcome Chemist Warehouse onto our share register as a significant shareholder, and to be entering into the Strategic Alliance with our largest customer that is strongly aligned to our growth aspirations in the health, wellness and beauty categories".
"The strong support to be provided by Chemist Warehouse for our Core Brands as well as the incremental ranging in-store and online for our other health and beauty brands is expected to accelerate our growth domestically as well as internationally through Chemist Warehouse's physical and e-commerce platforms."
"Further, the ability to sell the Chemist Warehouse owned or controlled health and beauty brands through McPherson's distribution channels is highly complementary and synergistic to our existing capabilities. "
If you would like further information and a summary of the agreements, please view the full announcement on the McPherson's ASX webpage.
Please join McPherson's in celebrating this alliance for expansion.
Published 24th March 2022